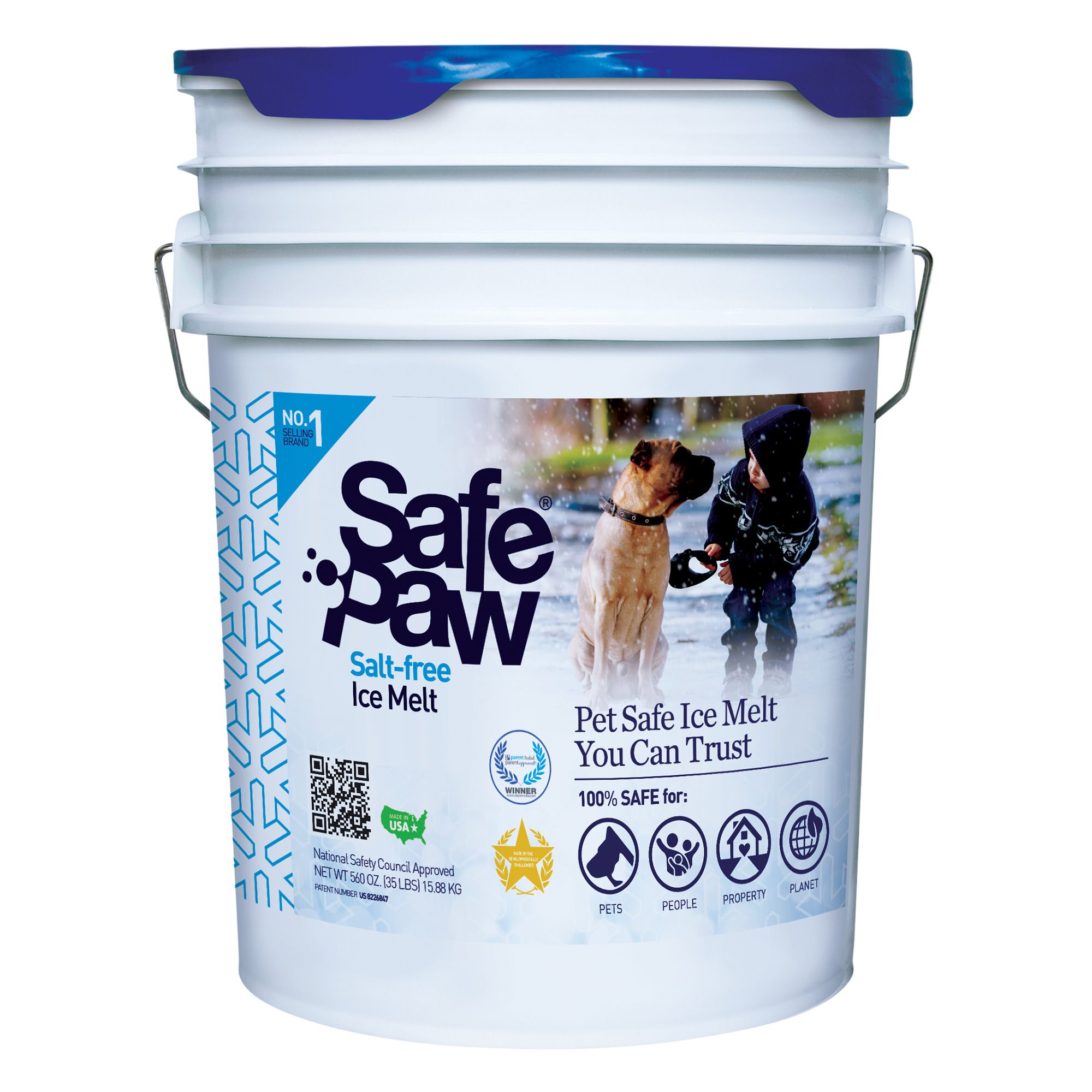 If you are tired of dealing with rough winters then you need something that will help you break up the snow and ice that likes to stick to your driveway and sidewalk. Out of all the salts and melting products on the market it can be difficult to choose and it seems that no matter what you select there is a downside or drawback. But not with Safe Paw. Safe Paw is an eco-friendly ice melting product suitable for all applications.
There are many benefits to using Safe Paw over rock salt and other ice melts. The first is that it is safe for pets and for children. It is also a green friendly product that is safe for your vegetation and your concrete surfaces. It is a "green" product both literally and figuratively. That is to say it is green in color so that you can tell where it is placed on the ground and it is green in the sense that it won't cause harm to the environment.
Safe Paw is incredibly effective. The product is made with two key ingredients. The first is a crystalline amide core which has been modified and infused with a glycol admixture. Basically this means the chemical formula in the product will attract solar heat in the daylight and melt ice naturally for up to three days. The fact that it works for so long means you get to save time and money that would have been spent laying out melting salts every day.
If you reside in a neighborhood that has a lot of cats and a lot of neighbors walking their dogs then Safe Paw is an effective way to help alleviate dangerous snow and ice from the ground while also protecting the neighborhood pets who come into contact with the product. This is one of the key benefits to using this product because any dog owner is aware that melting salts can cause quite a bit of damage to dogs. It actually sticks to their paws and becomes embedded in their fur as they walk. Once they get back in the house where temperatures are warmer the salt begins to burn the animals. Outdoor cats who run around the neighborhood are at risk for the same issue. This problem is worsened by dogs and cats that try and lick their paws to relieve the burn because this causes them to ingest the salt leading to gastrointestinal damage.
Safe Paw is more expensive than traditional rock salt but it offers many more protective benefits for your loved ones and it does not have to be used as often. Overall this product is a much safer and reliable product to use for anyone with pets and children who play outside in the winter. It ensures all neighborhood pets don't burn their paws and keeps your garden healthy and happy.